Are you looking for a professional company to take care of your office cleaning requirements? Ecocleen are at forefront of the Twickenham to Brighton cleaning industry, helping businesses and offices keep their employees and customers safe.The timescales are uncertain but, at some point soon, offices and businesses will be allowed to reopen, and people will go back to work.
"Our goal is to help new and existing customers to combat the spread of viruses quickly and efficiently, without impacting on the day-to-day use of their buildings". J Beukes, CEO, Ecocleen
If your employees are working from home, now is an ideal time to schedule a deep clean with Ecocleen. By doing so, when your staff return to the office, there is much less chance of a resurgence of virus contamination.
What is a deep clean?
Put simply, the clear difference between deep cleaning and regular cleaning is that regular cleaning takes place daily or weekly, whereas deep cleaning is usually carried out every six months and is considerably more thorough.
What is fogging? 
This advanced disinfection method is four times quicker than manual disinfection processes and uses 65% less cleaning solution, since particles are sprayed directly over surfaces and equipment. Our Clorox total 360 electrostatic sprayers provide 360-coverage over all surfaces within the sprayed area, including hard to reach areas a cleaner might miss.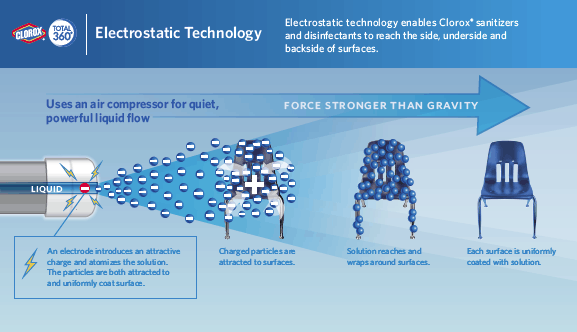 Why book an office clean?
Using one of these solutions, will dramatically reduce the spread of harmful bacteria, viruses, fungi and yeasts.

Flexible cleaning schedules
We can work with you to agree on a cost-effective, tailored cleaning schedule to effectively treat touchpoints and shared areas, regardless of time schedules or budget.
Light switches
Door handles
Handrails
Appliances
Equipment
Work surfaces
Which areas do you cover?
Brighton, Surrey, Twickenham, Eastbourne, Staines, Kingston upon Thames, Sutton, East Sussex, Haywards Heath, Horsham, Crawley, Weybridge, Redhill, Eastleigh, and surrounding areas.
Contact Ecocleen
To discuss your cleaning requirements, speak to one of our team members today:• Request a callback • 0800 612 6756 •
[email protected]